MOED EEx (52 120 - 52 125)
Explosion - Proof Electric Rotary Multi-turn Actuators with the electronic system - IP 55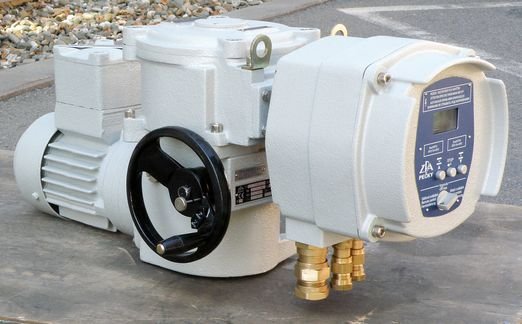 The MODACT® MOED EEx electric rotary multi-turn actuators are specially intended for controlling devices by a reversing rotary motion, e.g. slide valves and valves, and, in connection with an appropriate gearbox, also flap or ball valves, and other devices for which they are suitable due to their properties.
They can be operated in an environment with a danger of explosion of explosive gaseous atmosphere in zone 1 and zone 2 according to EN 60079-10 (332320). The actuators are designed as a device of group II, category 2G in compliance with standards EN 60079-0:2004, EN 60079-1:2004, and EN 60079-7:2004 for explosive gaseous atmosphere.
The actuators are marked with a label of protection against explosion and symbols of the group and category of the device Ex II 2G or Ex I M2; in addition, according to version for surrounding temperature -25°C to + 55°C with marking Ex de IIC T4 or for surrounding temperature -50°C to +55°C with marking Ex de IIB T4, and/or as modification for using in mines of group I, category M2 with marking Ex de I (see chapter Data on actuators).
Electro-mechanical control board is replaced with the electronic system DMS2 or DMS2 ED. Both systems scan position of the output shaft and torque of the electric actuator by contact-free magnetic sensors. The sensor of the output shaft position is absolute and does not require any backup power supply in case supply voltage is disconnected during operation of the electric actuator. Both systems can be set and monitored by a computer with controlling programme or manually without a computer.
The more simple system DMS2 ED substitutes electromechanical parts and/or provides for controlling the electric actuator by input analog signal as in the version Control.
The system DMS2 enables the electric actuator to be used for two-position and three-position regulation or to be connected to the industrial bus bar Profibus.
MOED EEx
Type number
52120
52121
52122
52123
52124
52125
20-125
63-160
160-250
250-500
320-630
630-1100
Tripping force [kN]
Adjusting time [s/90°]
Position-changing velocity
[min-1]
11-40
16-125
10-80
16-100
16-63
30-100
[mm/min]
Working stroke
[°]
[ot]
2-250 (2-620)
2-250 (2-620)
2-250 (2-620)
2-240 (2-470)
2-240 (2-470)
2-240 (2-470)
[mm]
Supply voltage
1x 230 V, 50 Hz
24 V, 50 Hz
1 x 110 V, 50 Hz
3 x 230 / 400 V, 50 Hz
✔
✔
✔
✔
✔
✔
Control
Two position On-Off
✔
✔

✔

✔

✔

✔

Three position
Continuous
PROFIBUS
✔
✔
✔
✔
✔
✔
Position sensing
Resistance transmitter (R)
Absolute
✔
✔
✔
✔
✔
✔
Current transmitter (I)
Position interrupt
✔
✔
✔
✔
✔
✔
Torque-initated interrupt
✔
✔
✔
✔
✔
✔
Manual actuation
✔
✔
✔
✔
✔
✔
Explosion-proof design
✔
✔
✔
✔
✔
✔
Type of enclosure
IP 55
IP 55
IP 55
IP 55
IP 55
IP 55
Weight - depending on design (Al/cast iron) and on motor [kg]
47-49
57-80
57-80
112-150
108-150
239-248
Designation of explosion-proof properties
It consists of the following symbols:
EEx - Electric device complies with the standard EN 50 014 and related standards for various types of protection against explosion.
d - Designation of the type of protection against explosion, explosion-proof closure according to EN 50 018.
II - Designation of the group of explosion-proof electric device according to ČSN EN 50 014.
C - Designation of the sub-group of the group of explosion-proof electric device according to EN 50 014.
T4 - Designation of temperature class of explosion-proof electric device of the Group II according to EN 50 014.
Nomenclature
Environment with explosion danger - environment in which an explosive atmosphere can be created
Explosive gaseous atmosphere - a mixture of flammable substances (in the form of gases, vapours or mist) with air under atmospheric conditions in which, after initialization, burning spreads out to non-consumed mixture.
Maximum surface temperature - The highest temperature created during operation under the most unfavourable conditions (however within approved limits) on any surface part of the electric device, which could induce ignition of surrounding atmosphere.
Closure - All walls, doors, covers, cable bushings, shafts, rods, pull-rods, etc. which contribute to the type of protection against explosion and/or to the level of protection (IP) of the electric device.
Explosion-proof closure "d" - Type of protection in which the parts capable of causing ignition of an explosive atmosphere are installed inside the closure; in case of internal explosion this closure should withstand pressure of the explosion and prevent spreading of the explosion into the surrounding atmosphere.
Secured design "e" - Type of protection against explosion with additional measures adopted for increased safety against non-permissible temperature increase and formation of sparks or arcs inside and on external parts of the electric device which, under normal operating conditions, does not form sparks or arcs.